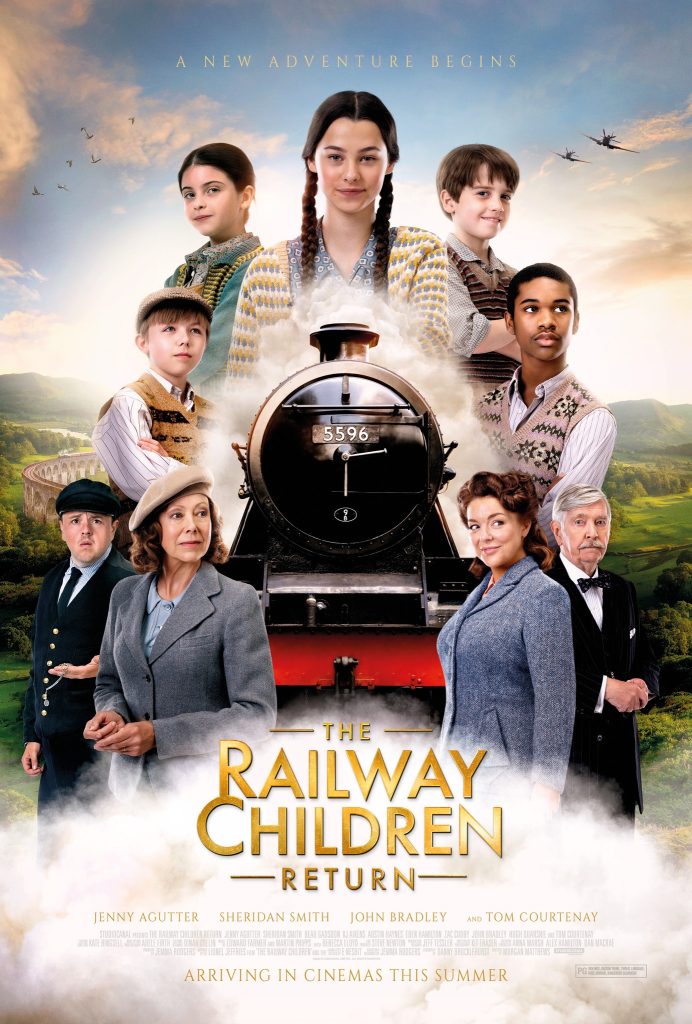 The Railway Children Return
This summer the latest feature film filmed at the Keighley & Worth Valley is set for release, set 40 years after the original Railway Children.
1944 – As life in Britain's cities becomes increasingly perilous, three evacuee children – Lily (Beau Gadsdon), Pattie (Eden Hamilton) and Ted (Zac Cudby) Watts – are sent by their mother from Salford to the Yorkshire village of Oakworth. There to meet them on the train station platform are Bobbie Waterbury (Jenny Agutter, reprising her iconic role in the original film), her daughter, Annie (Sheridan Smith), and grandson Thomas (Austin Haynes), and with their help, the evacuees are soon settling into their new life in the countryside.
A New Adventure Begins…
The Keighley and Worth Valley Railway as a location for film & TV productions
The KWVR is ideal for filmmakers. The compact 5-mile line offers productions a range of authentic and unusual features and can be used as a location for any period between 1860 and 1960.
The KWVR works closely with Screen Yorkshire, which invests in film and TV production through the innovative £15m Yorkshire Content Fund, the largest fund in the UK. The Yorkshire Content Fund comprises £7,500,000 of investment from the European Regional Development Fund (ERDF), which will be matched by private investment on a project-by-project basis. Investments using the KWVR as locations include Peaky Blinders, The Great Train Robbery, and Testament of Youth. Added to that, the K&WVR boasts film-friendly staff with extensive first-hand knowledge of the particular requirements of both large and small-scale productions.
Cinema Credits
Feature films include Yanks (1979, Universal); Jude (1996, BBC Films): Fairy Tale: A True Story (1997, Icon Entertainment); Brideshead Revisited (2007, Ecosse Films), and Selfish Giant (2013); Another Brick in the Wall (Pink Floyd); Escape from the Dark (Disney); Swallows Amazons, 2016. One of the latest feature films shot on the KWVR is the cinematic adaptation of Vera Brittain's iconic and powerful WW1 memoir, Testament Of Youth, starring Alicia Vikander & Kit Harington, released at cinemas in January 2015.
And, of course, who can forget the classic 1970 version of The Railway Children starring Dinah Sheridan, Jenny Agutter, Sally Thomsett and Bernard Cribbins, which was filmed here on the KWVR.
TV Credits
Television programmes made at the KWVR include The Great Train Robbery (2013 BBC); Spanish Flu – The Forgotten Fallen (2009, Hardy Pictures); The League of Gentlemen (BBC); Last of the Summer Wine (BBC); Housewife 49 (2006, Granada Television); A Touch of Frost (ITV Productions); The Royal (YTV); Some Mothers Do 'Ave 'Em (BBC); Born & Bred (BBC) and several period dramas including, The Way We Live Now (2001); Sons & Lovers (2003); and North & South (2004).
More recently, the Railway was used for locations for BBC's Peaky Blinders but in September 2020, the KWVR burst onto our TV screens on the newly released version of All Creatures Great and Small. Presenters celebrating Yorkshire often visit the railway, with Jane McDonald and Susan Calman visiting in 2022.
TV Commercials
The KWVR has also featured in numerous commercials, with brands including Budweiser (for the US market), Hovis biscuits, Symbol Crackers – filmed with the late Ronnie Corbett in Ingrow tunnel; Tetley bitter; Head and Shoulders shampoo – with 80002 at Keighley; as well as the famous Solvite advert when a steam locomotive (45212) was 'wallpapered' in Haworth yard.
2022 saw the railway used as the backdrop by international brand Gucci's collaboration with North Face, featuring popular train lover FrancisBourgeois. Oakworth Station was dressed as a Swedish Style Station and 78022 was seen passing the mountain in the back above Haworth.
The KWVR and Film Production
Producers have found the KWVR offers an extensive range of locations and opportunities in a compact 5-mile line with scenery ranging from inner town industrial to rolling countryside and wild moorland isolation. All this is only 75 mins drive from the television studios at Leeds and Manchester, and less than 3 hours by train from London Kings Cross.
Whatever the size of your production – or budget, we can help. From an afternoon fashion catalogue, stills shoot with no train to several days of filming with hired-in steam locomotives and Victorian carriages.
What the Keighley & Worth Valley Railway have to offer
Original features
The KWVR can offer a wealth of production experience plus "mainline urban" and "branch line rural" and stone-built stations all with authentic working fittings such as coal fires, gaslighting, period posters and signs.
Six stations – Keighley, Ingrow, Damems, Oakworth, Haworth, Oxenhope
Approximately five miles of track (some of it double track)
Four signal boxes
Two tunnels
Two-level crossings
A turntable
Several bridges and a viaduct
Extensive first-hand knowledge of film production requirements.
Vintage Carriages
Historic steam and diesel locomotives, carriages and wagons complete the authentic scene of any period from the 1860s to the 1960s. These locomotives and carriages, including the Vintage Carriage Trust* collection at Ingrow, are appropriate for the late Victorian and Edwardian periods through to the late 1960s.
Vintage Carriages Trust – Britain's premier independent collection of historic carriages is based at Rail Story, the Museum of Rail Travel, Ingrow West on the KWVR. See the Vintage Carriages Trust for full details – click here.
Many other classic carriages are based on the railway, including several private owner vehicles and some in the care of the Lancashire & Yorkshire Railway Trust.
Screen Yorkshire
The Railway works very closely with Screen Yorkshire and for more information on the services they can offer and extracts from the latest productions that have taken place on the Railway click here.
Contact us about Filming on the KWVR.
Suppose you are looking to re-create a particular period. In that case, the KWVR can advise on the type and availability of locomotives and carriages from all over the UK, not just the KWVR. Whatever advice you require please get in touch with our Operations Manager, Noel Hartley:
Telephone: 01535 645214
Email: operations@kwvr.co.uk
Alternatively, you may contact our admin office during regular midweek office hours, 09.30 – 16.30, on 01535 645214.