Real Ale & Heritage Diesel Days!
If you love diesel locomotives and ale, this is the perfect event for you.
On various dates, we will be running a diesel locomotive-hauled service throughout the day, featuring either our Class 37 or Class 20, when we will serve you the finest cask ales from our on-train bar, as you travel through the Bronte countryside in our Standard class open carriages.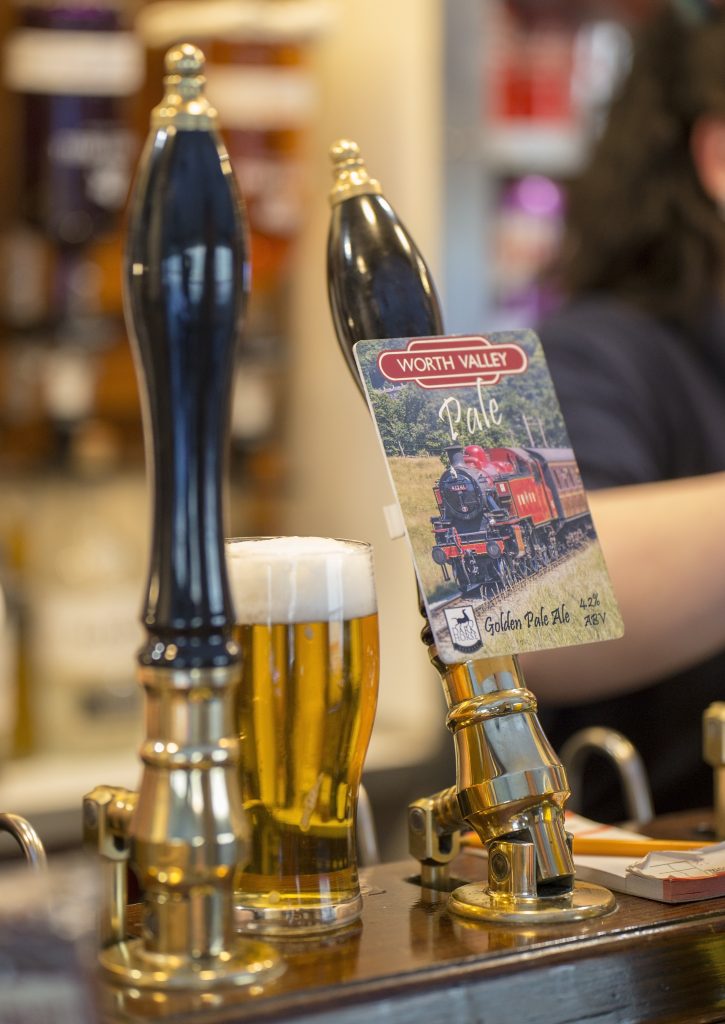 Worth Valley Pale
We'll be featuring Worth Valley Pale, An award-winning Golden Pale Ale, creamy and silky smooth. Carries a clean malt aftertaste with a fruity hop character and mild bitterness. Other guest beers and all the usual hot & cold drinks from the on-train bar will be available.
Dates
Friday 12th August
Friday 26th August
Saturday 10th September
LOCOMOTIVES
20031 Class 20 Diesel Electric
228 Type 1 diesel-electric diesel locomotives were produced, introduced in 1957, examples of the class, 63 years after its first manufacture, can still be seen across the network, usually working as pairs.
The engine spent time at several sheds in England; Nottingham, Stratford (London), York, Gateshead, lmmingham, Tinsley (Sheffield), lmmingham and Toton.20 031 first came out of service at Toton Depot in September 1989 only to be returned to traffic in November 1989 before being finally withdrawn in 1990.
The engine was purchased by a private consortium of KWVR members for use on the Worth Valley branch and the engine arrived at Haworth in August 1992. Since its arrival 20 031 has been usefully employed, hauling early morning services and assisting the Civil Department in their duties.
37075 Class 37 Diesel Electric
Introduced in 1959, the Class 37 (British Railways Type 3) has outlasted almost all the other classes of mainline locomotives introduced as part of the BR modernisation plan of 1955.
During its 'national service' life, 37 075 was allocated to nine different locations but as some were visited on more than one occasion, the total number of moves was 13. And that nomadic life continued into preservation with Haworth being its fifth location.
Arriving on the KWVR in 2012, 37 075 was purchased by a consortium of KWVR volunteers and moved it to Haworth. The largest Diesel Locomotive on the railway also found on fame on the small screen, masquerading as Class 40 D326, in BBC drama 'The Great Train Robbery'.
EVENT INFORMATION